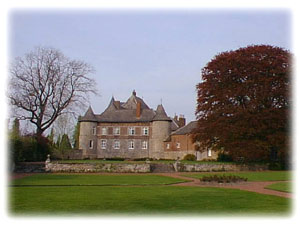 Thuin, Lobbes and Aulne, three important poles in olden days, were part of "Liège principality" from 899 till 1794. If you want to do some sightseeing we recommend you to visit the Aulne Cistercian abbey, founded in the 12th century by St Bernard and burned down by the French republicans in 1794, the printing house and the railway museum in Thuin, the collegiate church of Lobbes.
In the neighbourhood, more precisely in Gozée, you can admire a megalith called "Zeupire" and in Donstiennes a marvellously restored and in good working order mill.
Last but not least, Ragnies, considered as one of the most beautiful villages of Wallonie ( the French speaking part of Belgium) where you can visit, among other things,the "Distillerie de Biercée" located at La Ferme de la Cour and also a listed church containing baroque stalls.
And not far away, the Salamander Tower in Beaumont, the lake of Barbençon, the national marble museum and the natural museum of Rance.
As you can notice it the surroundings of the castle propose a large variety of leisure activities, original spots and historical sightseeing within a magnificent region called " La Thudinie".